When it comes to romance, are you vocal and upfront about your affection, or are you more of a silent lover?
In celebration of the day for all the lovebirds, CMHK has brought to the city a uniquely romantic campaign, "if you love me, please let me know", aiming to encourage more heartfelt exchanges between couples, life-long partners, as well as those looking to be in a relationship.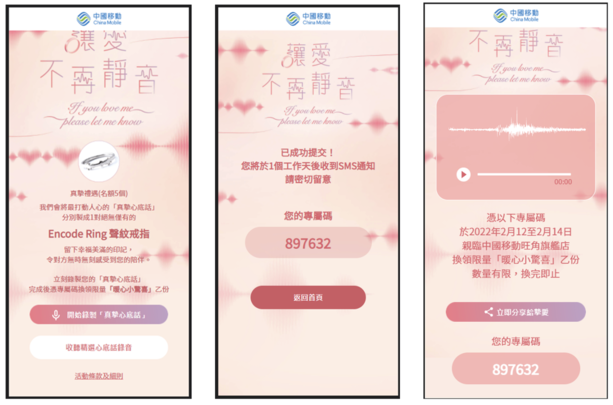 The 11-day-long campaign kickstarted in early February with a teaser post on the CMHK Facebook Page featuring a short video with moving sound waves in the background coupled with a few sentimental lines, which together gives out a romantic ambience.
What closely followed was the launch post released on 7 February. By clicking on the embedded link, the audience would be redirected to the campaign mini-site where they could leave a voice memo filled with wholehearted messages or even words of confession to their loved ones. Upon successful registration, participants could start recording their voice messages. Those whose messages had been approved would later receive an SMS message with a URL linking to their own special e-cards along with their voice messages, which they could send to their beloved using the share button. They would also be granted an entry to a giveaway, where 5 participants with the most touching audio messages would get to win a pair of "Encode Rings" with their own sound waves engraved on—just the perfect gift to celebrate such a special occasion.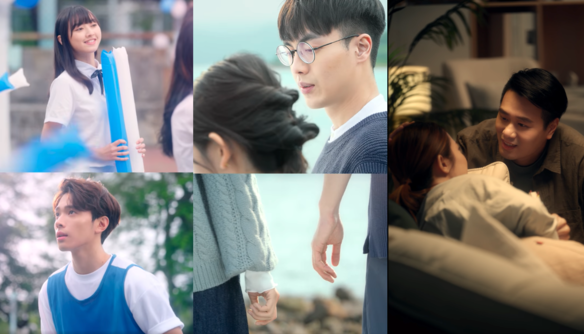 In order to drive more traffic to the website, a series of short videos themed around love were also published on both Facebook and Instagram in the following days. The three video clips, while each covering very different love scenarios, all revolved around a single message: encouraging people to express their love more overtly. In addition to the CMHK Facebook and Instagram pages, the campaign had also been featured on several other local media pages, including U Lifestyle and HolidaySmart, contributing greatly to its increased exposure to the public.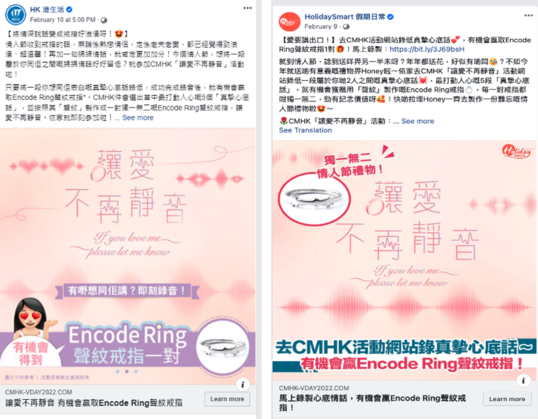 Despite some inevitable changes due to the ongoing pandemic, the event has concluded with flying colours, with a whopping with over 3 millions audience attained on both platforms within just 2 weeks.
Amidst a time when humanity as a whole is facing hardship in maintaining not only good health but also relationships, displaying our affection more frequently for someone has become more relevant than ever. It doesn't matter today if you are single, in a relationship or married; if you love somebody, it will indeed be a good idea to just let them know, either by giving them a warm hug, a kiss on the cheek, or uttering a sincere "thank you" and "I love you".
Published by Marketing Interactive on 21 April 2022
https://www.marketing-interactive.com/love-is-in-the-air-speak-the-language-of-love-loud-and-clear-with-cmhk%E2%80%99s-valentines%E2%80%99-day-campaign