Over the years, PRIZM has collaborated with numerous clients from different sectors, yielded promising results that satisfied both parties, and, most importantly, forged valuable, trusted bonds with such clients. If there is one that stands out, it would be the partnership with Danone Early Life Nutrition (HK), a client that PRIZM has been serving since 2020, beginning with the Apta Club.
Having recognised PRIZM's competency in foundation making and customer relationship management, Danone HK decided to entrust PRIZM with yet another major project—the founding and development of the Cow & Gate Club, a brand-new loyalty club that is differently positioned than Apta Club.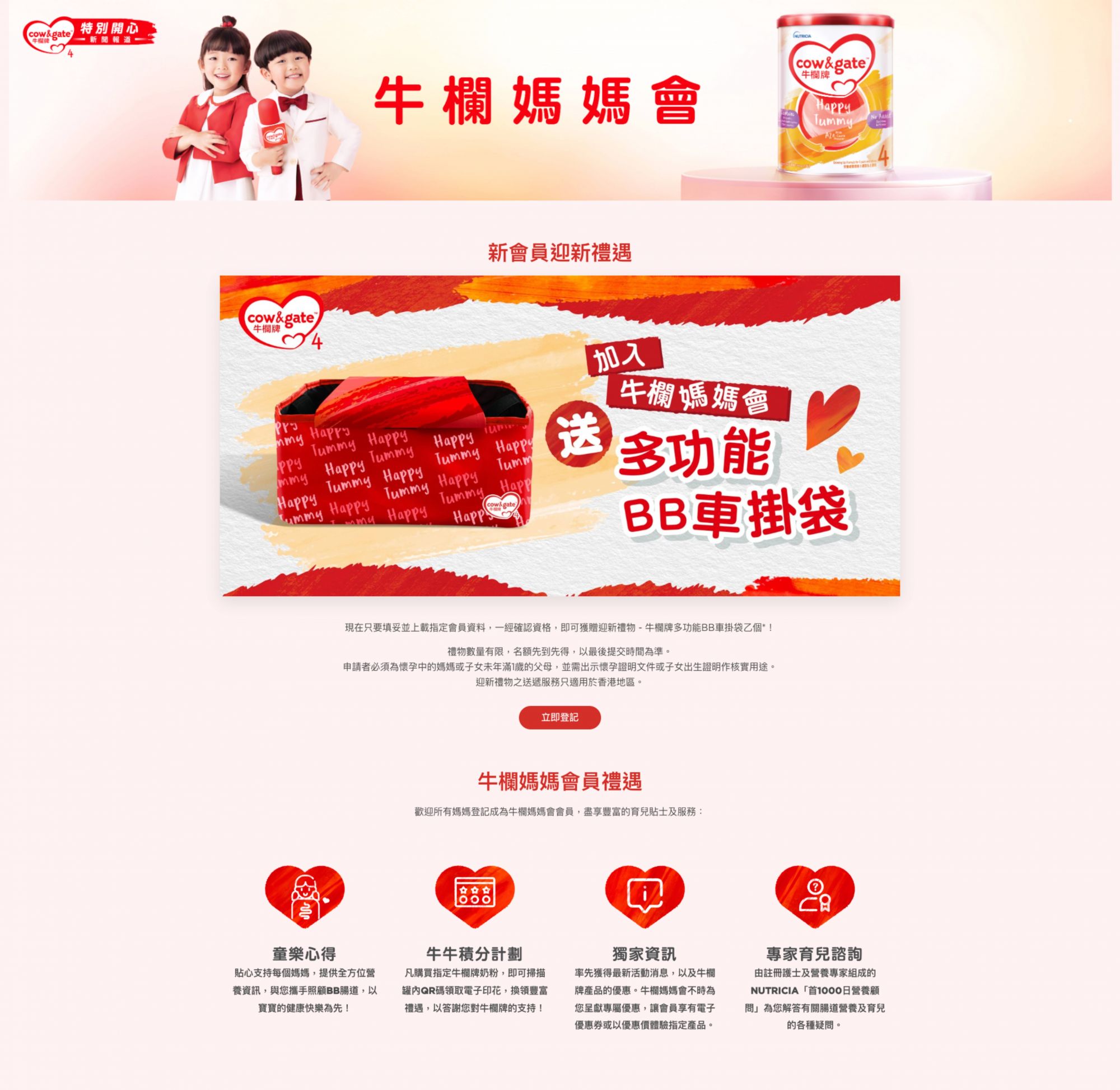 From ideation to implementation
In a period as short as six months, PRIZM managed to ensure that the club could come to fruition within the specific time frame. Before setting off, PRIZM blueprinted a methodical master plan for digitalisation for Cow & Gate, detailing areas such as customer segmentation, loyalty programme, activation campaigns, member referral programme, as well as global identity management integration.
Running against time and grappling with technical complexity due to the extensive scope of work, PRIZM was also tasked with building everything from scratch. For instance, considering that the brand had neither a club nor a well-developed digital recruitment system previously, a more sophisticated member recruitment system would have to be devised and set up first. Despite all, experience and technical prowess, together, has rendered everything possible. These very tasks were accomplished one after another.
Tailored to succeed: Strategic planning and tactics
The unique needs of the client were always taken into careful consideration as PRIZM worked its way through to formulate effective and feasible schemes for Cow & Gate. Adopting a comprehensive approach that placed equal emphasis on segmentation and customer relationship management (CRM) tactics, PRIZM first identified specific customer groups before targeting them with personalised marketing campaigns, and then rolled out a series of customer experience initiatives, including trial programme, WhatsApp platform, loyalty and MGM programmes. In addition to deepening customer engagement, such strategies were in place also to attract prospective customers and galvanise them into trying out their products.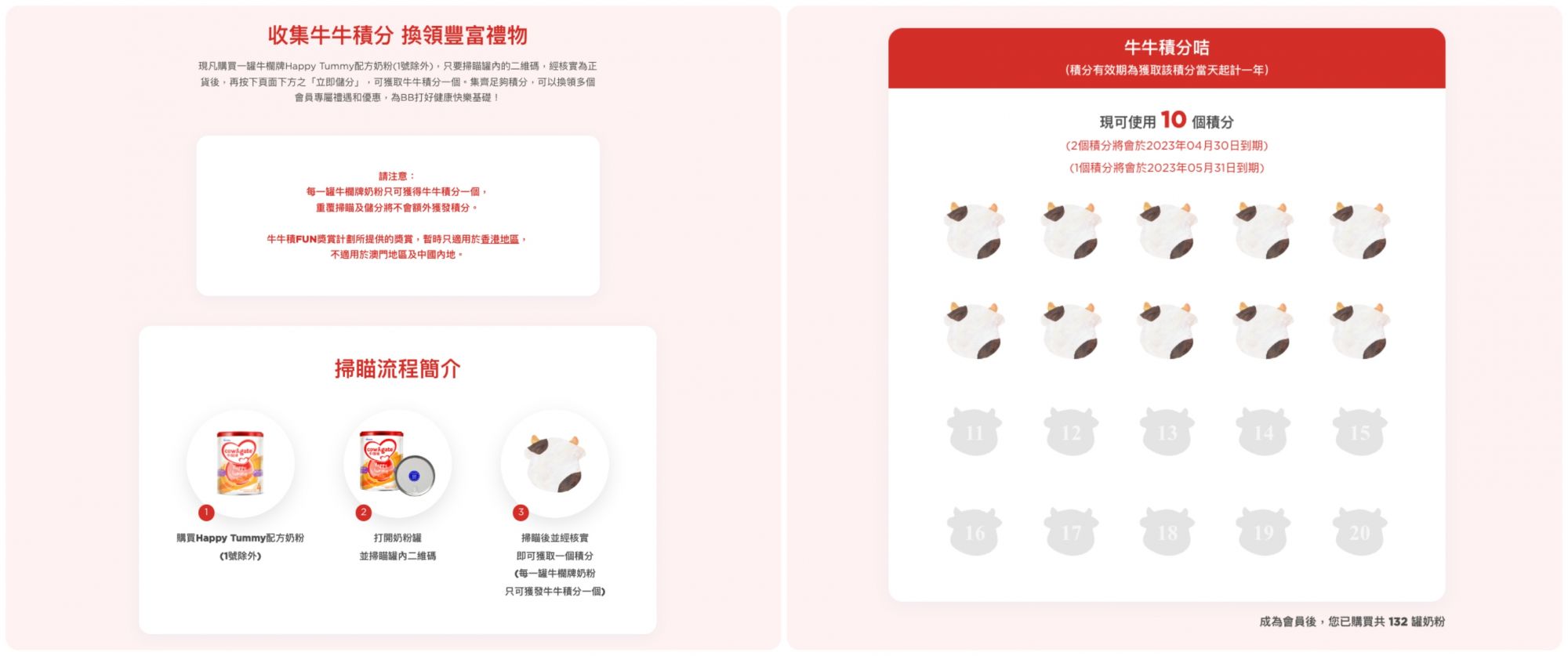 Going global: Revolutionising product authenticity and customer experience
The grand project did not take place solely in the context of Hong Kong. In order for the global identity management database Gigya and the global product authenticity system to be integrated with the Cow & Gate Club, PRIZM went the extra mile to join forces with several international partners. With them scattered across four other regions, namely the United Kingdom, the Netherlands, France, and Singapore, the ways in which PRIZM approached and implemented the outlined work were subject to differences in time and in language.
The efforts, however, definitely paid off and contributed tremendously to the results that have been witnessed and rejoiced: Products are better geared against counterfeiting risks; the cost of consultations is lowered by a pronounced degree; customers are assured that what they purchase is always authenticated; most notably, the Cow & Gate Club now has easy access to a comprehensive system that precisely records and analyses members' activeness and buying behaviour patterns using the loyalty points earned by members.
Paving the way: The path to future accomplishments
PRIZM's partnership with Cow & Gate for the birth of the Cow & Gate Club manifests once again what PRIZM has to offer when it comes to constructing, developing, and perfecting an effective loyalty club. While the success of the Cow & Gate Club can be seen as a milestone in Cow & Gate's trajectory towards greater success in its league, this success story, to PRIZM, can definitely be seen as the door to many more great things that PRIZM looks forward to achieving with Danone HK.
Published by Marketing Interactive on 20 April 2023
https://www.marketing-interactive.com/from-concept-to-completion-how-prizm-helped-cow-gate-build-successful-robust