With the lifting of all travel restrictions and most of the social distancing measures since December last year being eradicated, Hong Kong is seeing more and more international visitors and tourists. This is coupled with the fact that the government in Hong Kong is also pushing for travel within the country by launching global campaigns and handing out free tickets. According to Expedia search data, the interest for inbound travel into Hong Kong has increased significantly, with average daily searches for inbound flights increased over 210%. Meanwhile searches for accommodation in Hong Kong grew 10%. The top 10 origin cities for inbound travellers are from Toronto, Vancouver, New York, San Francisco, London, Los Angeles, Bangkok, Singapore, Taipei and Seattle.
There is also more than 100% year-on-year growth in unique searches on Tripadvisor in December last year, January and February this year. The pages that show an overview of what Hong Kong has to offer include travel advices such as the best places to stay and visit, including dim sum restaurants suggestions, sightseeing attractions, amongst others, a check by MARKETING-INTERACTIVE saw.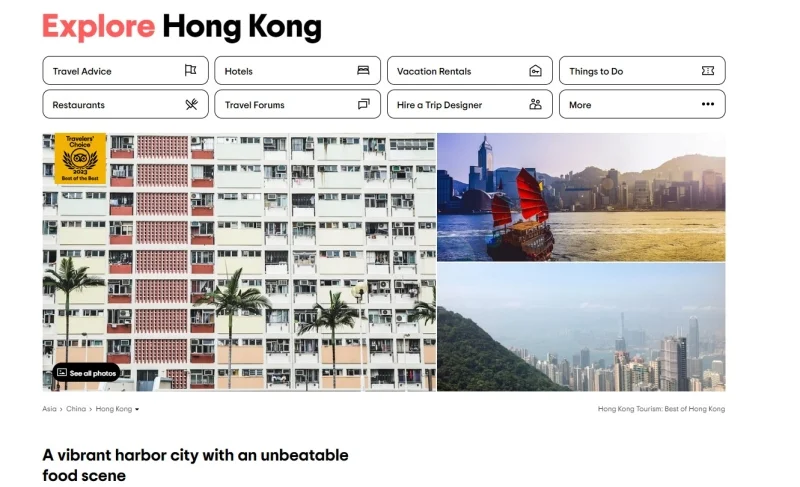 Commenting on how Tripadvisor is looking to better market Hong Kong as a destination, Duncan Skehens, director, international communications at Tripadvisor told MARKETING-INTERACTIVE that the company is constantly looking at how it can improve its world-class guidance products to help travellers make decisions in a world where "it's hard to find advice you can trust".
"On Tripadvisor, we offer genuine travel advice from impartial experts, not just on places to stay and see, but unique and immersive experiences to try, no matter your interests, budget or time frame, he said.
"Travellers can read advice about the best ways to visit and explore Hong Kong, discover travel itineraries and pro tips from local experts, and even access third party guides from trusted partners such as TTG Asia and Culture Trip."
How can tourism businesses stand out amidst the frenzy of promotions?
On the agency front, some industry players believed that when a particular destination experiences a spike in search activity, travel companies can adjust their marketing strategies in various ways to capitalise on this increased interest. These include social media marketing, special offers, and promotions, according to Jacopo Pesavento, CEO of Branding Records.
"By doing so, they can attract more users to their platforms and increase bookings for hotels, flights, and other travel-related services," he added.
Other ways include search engine marketing – travel companies may bid on keywords related to the destination in question in order to appear at the top of search results pages when users search for information about that destination.
There is also content marketing – companies can create blog posts, videos, or other types of content, that highlight the attractions and experiences available at a destination. This content can be shared on the company's website or social media channels, and can help to build awareness and interest in a destination.
Agreeing with his view was Yvonne Ma, founder and managing director of destination marketing agency Eighty20, which helped Brand USA and Hawai'i Tourism Authority with destination marketing and representation in Hong Kong, Southern China, Taiwan and Southeast Asia before the pandemic.
She said the online travel sites can further highlight Hong Kong's wonders and uniqueness to targeted markets, as well as creating thematic marketing campaigns that cater to Gen Z and Millennials, such as gradation trips or girls' getaways.
"Other ways to increase ticket bookings and length of stay is by offering more non-traditional local tours with a storytelling angle to offer a new perspective, and collaborating with key airlines or popular media partners in each targeted country or city for co-op strategies such as online content campaigns."
On the other hand, because online travel sites such as Expedia, Agoda and Tripadvisor have made a name for themselves within the industry over the years, they don't need to do much brand building, according to Desmond So, CEO of Uth Creative Group.
"Tactical promotions such as lucky draws, games to engage consumers and ensure customer stickiness are more than enough to market the destination Hong Kong," So added.
How can tourism businesses stand out amid the frenzy of promotions?
The increase in inbound visitors to Hong Kong certainly creates new marketing opportunities for tourism businesses to bring in more revenue. But with so many marketing activities out there, how can one cut through the clutter is a question for many companies.
Apart from all the iconic attractions in Hong Kong that have been promoted for years, Eighty20's Ma suggested that tourism businesses should think of off-the-beaten-path experiences with storytelling by experts, such as the Airbnb Experiences model.
"Hong Kong tourism needs to focus on presenting something new and fun instead of worrying about other destinations taking away Mainland visitors," she said.
"The recovery of Mainland China's outbound travel will take more than a year, especially for leisure travel to long-haul destinations, so Hong Kong has time to polish its advantages and offer a warm welcome to potential visitors."
As for overseas tourists, she said that tourism companies need to differentiate themselves from other major cities in Northern Asia closer to China.
"For example, is it possible to combine Hong Kong with other GBA destinations to offer a unique experience?" She said.
Agreeing with the view was Jeffrey Hau, co-founder and CEO of PRIZM Group, who said businesses should try something new to attract international visitors as consumer preferences have changed.
"What travellers found attractive about Hong Kong pre-COVID might not work now, so perhaps it's time to perform research or focus groups again," he said.
"If there is one thing for Hong Kong to stand out about, I think our shopping scene is a big draw for tourists, especially because of the variety of retail brands and the fact that you can shop tax-free."
There are various ways that tourism businesses can differentiate themselves, including creating unique experiences that showcase Hong Kong's culture and heritage, such as food tours, historical walking tours, and visits to traditional markets, according to Branding Records' Pesavento.
Second, they can offer services such as personalised itineraries and local recommendations based on travellers' interests. They can also leverage technology to enhance the visitor experience such as virtual tours or augmented reality experiences.
Finally, they could partner with local businesses to offer bundled packages that include experiences, accommodation, and dining options, he added.
Uth's So said that ultimately it's the soul of a new Hong Kong that has brought Hong Kong residents new excitement, and brands should leverage that with overseas visitors as well.
"Brands that aim at tourism businesses should also consider their brands as part of Hong Kong and share the same values it does; where it's about new ideas and energy; thus, brands should consider new angles to attract tourists to pay repeated visits to their shops because every time there are new reasons for them to visit again."
What challenges can marketers expect?
Given the influx of marketing activities as Hong Kong opens up, marketing budgets will be under pressure to deliver effective campaigns that reach target audiences, according to Branding Records' Pesavento.
"Another challenge will be to create compelling content that resonates with visitors while complying with evolving regulations on public health and safety. Finally, it will be important to balance the need for promoting tourism with the need to preserve Hong Kong's natural and cultural heritage," he added.
When it comes to marketing dollars, brands have become more cautious likely because of the global economic uncertainty and increased competition from other short and long-haul destinations, according to Eighty20's Ma.
"Despite seeing a gradual pick-up in demand to travel to Hong Kong, it is difficult to accurately forecast revenue and it will take time to reach pre-pandemic inbound traffic numbers. However, effective marketing in Mainland China does require an adequate budget," she said.
She also explained that Hong Kong tourism businesses must work harder to educate their teams about Mainland Chinese travellers' online behaviours, and the HK marketing landscape.
On the other hand, Tony Hon, executive creative director at Turn Creative, said marketing budgets will be tight because the market is still recovering.
"But the fact is that marketing expenses are an investment. So it is all about the value, but only if you have the right vision."
Published by Marketing Interactive on 13 March 2023
https://www.marketing-interactive.com/travel-searches-for-hk-soar-how-can-players-best-capitalise-trend?